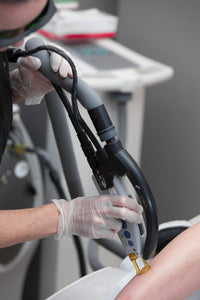 Here at Simplicity we pride ourselves on providing our clients the best possible experience. That's why we use top-of-the-line lasers in all of our clinics. Today we'd like to tell you a little bit more about the different types of lasers available and what they treat.
One of the more common types of laser used is called an IPL (Intense Pulsed Light). While this type of laser is effective for photo facials and treating certain skin conditions, it cannot permanently reduce or remove hair. It is effective at removing hair temporarily, but it has a 25% regrowth rate.
The types of lasers that we use here at Simplicity are ND:Yag and Alexandrite lasers. They are the most effective with the least amount of side effects and are FDA approved for permanent hair reduction. Using both laser platforms allows us to treat all skin tones and types. These lasers have a specific focus, unlike an IPL, and reach deeper into the hair follicle to destroy it more effectively. The following info graphic illustrates these differences. Our lasers are non-ionizing, meaning they do not use radiation and therefore cannot alter DNA. It's important to closely follow pre- and post-treatment care instructions in order to get the best and safest results. 
To learn more about our lasers, you can check out the official page for the lasers that we carry here.