| | |
| --- | --- |
| | CHANDLER, AZ |
CHANDLER, AZ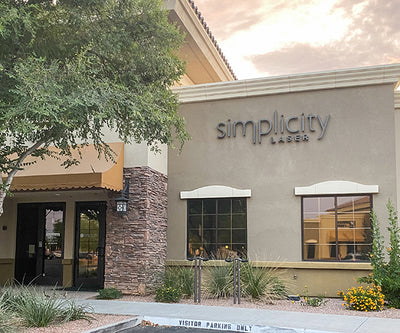 WHY SIMPLICITY LASER?
Simplicity has been offering effective laser treatments since 2009. With our extensive knowledge and expertise in removing unwanted hair we are able to provide our clients with
results that last
ADDRESS
4905 S. Alma School Rd, Ste. 2 Chandler, AZ 85248
CLINIC HOURS
Monday: 1 pm - 7 pm
Tuesday: 7 am - 7 pm
Wednesday 1 pm - 7 pm
Thursday: 7 am - 7 pm
Friday: 7 am - 1 pm
Saturday: 8 am - 4 pm
PHONE NUMBER
800.559.9138
Monday-Friday
7:00 - 6:30pm (MST)
Saturday
9:00am - 3:00pm (MST)
Sunday
Closed
| | |
| --- | --- |
| | SIMPLICITY LASER is the best laser hair removal provider in Chandler, Arizona. |
Tired of constantly keeping up with hair growth? Simplicity has the right solution to your problems. We understand how hard it is to deal with stubborn unwanted hair, which is why our team consists of reliable and experienced professionals and well-trained staff members.
In addition to our amazing staff, we utilize the latest and greatest laser hair removal technology to provide you with an unparalleled experience in comfort, results, and cost. With our safe and effective treatments, you can get rid of excess hair on your body permanently.
Simplicity Laser is the best choice for laser hair removal in Chandler, Arizona. We provide fast, efficient treatments with highly trained technicians using state of the art lasers to get you results at a price you can afford. You can count on us when we say we can help prevent unwanted hair growth.
We take pride in the quality and reliability of the treatments and services that we offer. Everything that we do is to make sure that our clients are getting the most out of their Simplicity experience. That's what makes us the laser hair removal specialists of choice for clients in Arizona and across the US.
MAKING EVERY VISIT A UNIQUE AND REWARDING EXPERIENCE
Every treatment with Simplicity is customized to the client. We utilize custom settings in order to address the needs of each individual client. Our laser technicians are trained to adapt to individual needs in order to maximize the results for each and every one of our clients.
In addition to our highly trained staff, Simplicity has invested heavily in technology designed to make treatments comfortable and efficient. We offer only the best products to compliment our service, and selected them specifically to compliment our treatment regimen. Our technicians are committed to helping you have an excellent experience every time you visit.
WHAT IS THE BEST LASER FOR LASER HAIR REMOVAL?
Simplicity Laser has partnered with Syneron-Candela in order to source the best lasers for laser hair removal. These lasers are designed to permanently remove hair, and nothing else. These are not IPLs or Photofacial machines, our lasers are exclusively used for laser hair removal. It is because of that specialty that we are able to say that we can permanently reduce hair growth. This is not a temporary solution, or something that requires constant maintenance; this is permanent laser hair removal.
Start today with an introductory package to get the permanent results you deserve! Visit or contact us to learn more about our hair removal treatments and packages. You're always welcome at our clinic.

Call Center Hours (MST)
Monday - Friday                 8:00 AM to 6:30 PM
Saturday                              9:00 AM - 3:00 PM
Services Available
DRIVING DIRECTIONS
Exit the 202 and head South on Alma School Rd. Keep heading South passing Ocotillo Road and Lake Drive until you reach S Fulton Ranch Blvd. Take a Left on S Fulton Ranch Blvd. Next take your first right into the plaza. Then you will take your first right into the complex parking lot. Keep heading all the way down. Simplicity Laser is on the right in between Fulton Ranch Dental and Promenade Dental.