| | |
| --- | --- |
| | GLENDALE, AZ |
GLENDALE, AZ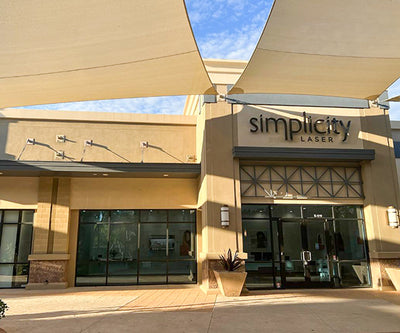 WHY SIMPLICITY LASER?
Simplicity has been offering effective laser treatments since 2009. With our extensive knowledge and expertise in removing unwanted hair we are able to provide our clients with
results that last
ADDRESS
19420 N. 59th Ave., Suite E510 Glendale, Arizona 85308
CLINIC HOURS
Monday: 7 am - 7 pm
Tuesday: 7 am - 1 pm
Wednesday: 7 am - 7 pm
Thursday: 7 am - 7 pm
Friday: 7 am - 7 pm
Saturday: 8 am - 4 pm
PHONE NUMBER
800.559.9138
Monday-Friday
7:00 - 6:30pm (MST)
Saturday
9:00am - 3:00pm (MST)
Sunday
Closed
| | |
| --- | --- |
| | SIMPLICITY LASER is the best laser hair removal provider in Glendale, Arizona. |
What would it be like to never have to shave again? What would you do with those ten extra minutes every day? Would you finally be able to finish that book that you've been dying to read, or clean out that closet that is completely full of junk?
What would it be like to wear shorts without considering when you last waxed? Would you be more prone to a spontaneous trip, or more excited to spend a day at the pool with your kids?
What would it be like to never feel self conscious about hair on your face ever again? Would you feel more confident in your relationships, and more willing to do the things you've always dreamed of?
Laser hair removal offers the solution to all of these problems. You can wear shorts or skirts with confidence knowing that your legs are free from dark, visible hair. You can show the world how attractive you are when you get rid of excessive hair on your face. Simplicity Laser offers an effective treatments that will help you do away with your unwanted hair and all its consequences.
Simplicity Laser of Glendale is the premier laser hair removal clinic in Glendale, Arizona. We utilize only the absolute best technology, hire only the best staff, and provide unsurpassed results at an affordable price. Committed to comfortable, efficient treatments and expert skill, Simplicity clients get the results they want in the way they deserve.
A FAST, SAFE, AND EFFECTIVE WAY TO REMOVE UNWANTED HAIR
Simplicity utilizes the latest and greatest laser hair removal technology to make sure that every client receives the maximum result possible for each treatment. We only utilize lasers that are specifically designed to permanently remove unwanted hair, not photofacials or IPLs. In addition to making sure that our technology is the most effective at hair removal, we have invested heavily in technology to make sure that your laser hair removal treatments are as comfortable as possible.
Our highly trained laser technicians are experts in their field, and customize each treatment according to the individual needs of the client. This personalized approach to treating unwanted hair problems and our complete line of treatment packages make us the ultimate choice for a growing number of clients across the US.
HOW CAN SIMPLICITY CHARGE SO LITTLE FOR THEIR SERVICES?
Our philosophy at Simplicity is to make laser hair removal accessible to everyone. We have disrupted the industry in many ways, but one of the biggest differences between us and our competitors is price. Many people wonder how we are able to charge so little for our services and manage to stay in business, and the answer is found in our philosophy. We wanted to make laser accessible to everyone, so we charge our clients the lowest possible prices, and treat as many people as we possibly can. While our competitors make money by charging insane prices, we make our money by charging the lowest possible price and then treating the maximum amount of people. This philosophy has allowed us to expand rapidly and develop into one of the premiere laser hair removal companies in the US.
Come see what we're all about! Get started at Simplicity Laser in Glendale today with one of our starter packages.
Call us or send us an email by filling out our online form to inquire about our services.
Call Center Hours (MST)
Monday - Friday                 8:00 AM to 6:30 PM
Saturday                              9:00 AM - 3:00 PM
Services Available