| | |
| --- | --- |
| | NORTH AUSTIN, TX |
NORTH AUSTIN, TX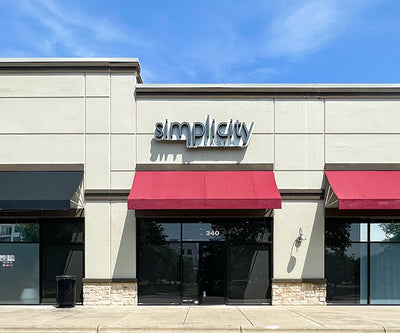 WHY SIMPLICITY LASER?
Simplicity has been offering effective laser treatments since 2009. With our extensive knowledge and expertise in removing unwanted hair we are able to provide our clients with
results that last
ADDRESS
2525 W. Anderson Ln., Ste. 340 Austin, TX  78757
CLINIC HOURS
Monday: 7 am - 7 pm
Tuesday: 1 pm - 7 pm
Wednesday: 7 am - 7 pm
Thursday: 1 pm - 7 pm
Friday: 7 am - 1 pm
Saturday: 8 am - 4 pm
PHONE NUMBER
800.559.9138
Monday-Friday
7:00 - 6:30pm (MST)
Saturday
9:00am - 3:00pm (MST)
Sunday
Closed
| | |
| --- | --- |
| | SIMPLICITY LASER is the best laser hair removal provider in North Austin, Texas. |
Painful razor burn, monthly waxing trips, and unwanted facial hair are all consequences of temporary hair removal solutions. Simplicity Laser in Austin provides a permanent solution to the constant problem of unwanted body hair. We want you to do away with all the inconveniences of temporary solutions by giving you permanent results. We do this by offering the most advanced hair removal technique available today.
Simplicity Laser utilizes top of the line laser technology to permanently remove unwanted body hair. The only lasers that we use are the Candela Gentlemax Pro and Candela ND:Yag lasers, and we determine which laser best suites your needs according to your skin tones and skin type. Despite all of the advances in laser hair removal technology, lasers are still only effective at removing dark hair. Clients with blonde, red, or gray hair will have difficulty seeing a dramatic reduction in hair growth.
In addition to using only the best laser technology to get you results, Simplicity Laser has also heavily invested in technology to help make your laser hair removal treatments as comfortable as possible. We have equipped all of our lasers with a machine known as a Zimmer, which blows cool air on the areas that are being treated, helping to numb and cool the area throughout the treatment.
The final piece of the puzzle for our laser hair removal treatments is our expertly trained staff. We employ only highly trained, certified laser technicians. Our staff is highly trained and their goal is to get you the permanent hair removal results that you are looking for.
Got problems with unwanted body hair? We have the solution.
You deserve to look your best. Show off your beautiful, radiant skin minus the unwanted body hair. We at Simplicity Laser focus on removing unwanted or excessive hair from your body and preventing them from regrowing. Our lasers target the hair follicles, destroying them, and preventing future hair growth, it is for this reason that we are FDA approved to promise permanent hair reduction for all skin tones.
Our team is committed to bringing you the best type of service and care you can imagine. We are proud to offer innovative laser hair removal in Austin, Texas. Visit us to find out why our clients love our services. Our office is conveniently located at 2525 W. Anderson Ln., Ste. 340 Austin, TX  78757.
Using the most advanced laser technology and certified, experienced technicians, Simplicity Laser offers the best value in the industry.  Efficient and comfortable treatments and affordable pricing make Simplicity Laser the best place for you to start getting the results you want!
Start your laser hair removal treatments today with one of our introductory packages! Contact us if you need more information about the treatments we offer. We would love to get in touch with you and help solve your problems with unwanted hair.
CALL CENTER HOURS (MST)
Monday - Friday                 8:00 AM to 6:30 PM
Saturday                              9:00 AM - 3:00 PM 
Services Available