| | |
| --- | --- |
| | SUMMERLIN, NV |
SUMMERLIN, NV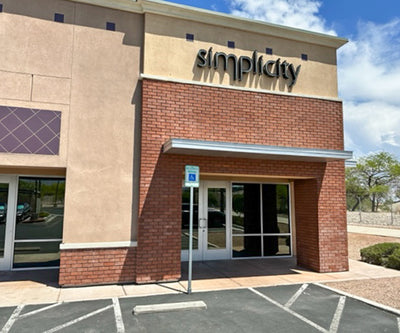 WHY SIMPLICITY LASER?
Simplicity has been offering effective laser treatments since 2009. With our extensive knowledge and expertise in removing unwanted hair we are able to provide our clients with
results that last
ADDRESS
7591 W Washington Ave #140, Las Vegas, NV 89128
CLINIC HOURS
Monday: 7 am - 7 pm
Tuesday: 7 am - 7 pm
Wednesday: 7 am - 7 pm
Thursday: 7 am - 7 pm
Friday: 7 am - 7 pm
Saturday: 8 am - 4 pm
PHONE NUMBER
800.559.9138
Monday-Friday
7:00 - 6:30pm (MST)
Saturday
9:00am - 3:00pm (MST)
Sunday
Closed
| | |
| --- | --- |
| | SIMPLICITY LASER is the best laser hair removal provider in Summerlin, Nevada. |
Maintaining a hairless appearance can be nearly impossible. Removing unwanted body hair can turn into a full time job if you let it, constantly tweezing, shaving, and waxing also adds strain to your skin, meaning that you have to spend more time and money on skincare. Luckily, there is a permanent hair removal solution: Simplicity Laser.
Simplicity Laser uses only the most advanced laser technology to remove unwanted body hair and stop the hair growth. Our lasers target and destroy the hair follicles, which eliminates hair growth. Thanks to advances in laser technology, we can now permanently remove body hair from clients of all skin tones and types. Despite these advances, our lasers still work best on clients that have dark hair; clients with blonde, red, or gray hair will not be able to get the same results.
In addition to investing in the best lasers on the market, Simplicity Laser has also made a significant investments in making sure that your laser hair removal treatments are as comfortable as possible. We utilize a machine known as a "Zimmer" which blows cold air on the area that is being treated. This helps to numb the area before the laser pulse, and then cool it after the pulse. This machine helps make every laser hair removal treatment more comfortable for our clients.
Simplicity Laser also maintains strict hiring standards, we only use highly trained and certified laser technicians to perform our laser hair removal treatments. All of our staff is committed to helping you get the permanent hair removal that you are seeking. They do this by customizing every single treatment to your individual body hair growth needs.
GET THE RESULTS YOU WANT AT A PRICE YOU CAN AFFORD
Simplicity is a leading provider of laser hair removal in Las Vegas, Nevada. We take pride in the unsurpassed quality of care we offer and the permanent results we give to our clients. We'll help you get rid of unwanted hair so you can show off your beautiful skin with confidence.
Make us your specialists of choice when it comes to laser hair removal treatments in Las Vegas.
Don't wait to start removing your hair for good! Start getting laser hair removal with an introductory package today.
CALL CENTER HOURS (MST)
Monday - Friday                 8:00 AM to 6:30 PM
Saturday                              9:00 AM - 3:00 PM