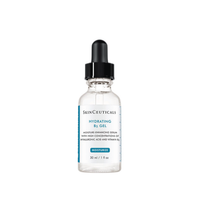 It's time to talk about everyone's favorite product: Hydrating B5 Gel from SkinCeuticals. It has wingman powers over your normal moisturizer. 
It can be everything you've ever needed
Not wanting to flirt with other moisturizers? Use Hydrating B5 Gel as a stand-alone moisturizer. Just two drops and you've got yourself a smooth, hydrating moisturizer. For those who feel like other moisturizers leave them looking greasy, this is a great replacement. No grease or shine after using this product!
It can elevate your current moisturizer
Need something to make your usual moisturizer make you look even better? Using Hydrating B5 Gel in conjunction with your current facial moisturizer leaves your skin extra soft, supple, and smooth. The extra hydration will have your skin thanking you. Don't be afraid to mix it with other moisturizers. 
It's great for acne
Wanting to get rid of persistent acne? Hydrating B5 Gel is a great moisturizer because it doesn't clog your pores while providing optimal hydration. Problem solved! 
Try blending Hydrating B5 Gel with EltaMD UV Daily in the winter (when your skin is a bit drier) and with EltaMD UV Clear in the summer (when your skin is oilier and doesn't need the extra hydration, but needs an acne fighting boost). Tell us how you are using Hydrating B5 Gel as your skin's wingman!