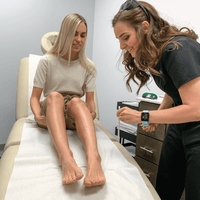 A lot of people wonder what it's like to get laser hair removal. Does it hurt? How bad is it? What can be done to minimize the pain? Hopefully this blog post can answer a few of these questions for you.
Laser hair removal can be somewhat painful; however, everyone's pain tolerance is different. Most people compare it to being snapped by a rubber band. There are a few things that we do here at Simplicity Laser to help make sure that your treatments are as comfortable as possible.
The first thing that we use to help minimize the pain of laser hair removal is top-of-the-line lasers. By using the latest and greatest lasers on the market, we are able to
provide a much more comfortable experience for our clients. We currently utilize the Candela ND:Yag and Alexandrite lasers for all of our clients. These two lasers are unparalleled in the results and comfort that they deliver our clients, which is why we use them in all of our clinics.
Another investment that Simplicity Laser has made for the comfort of our clients is a machine known as the Zimmer. These machines are specially designed to deliver cool air to the surface of your skin, helping to decrease skin sensitivity and calm the surface before and after the pulse. 
We also offer a line of the best products designed to increase comfort and protect and repair your skin after treatment. These products include our Restorative Gel and Desensitizing Gel, specially formulated for our Simplicity clinics. 
The Desensitizing Gel contains 4% lidocaine to help numb the area that will be treated. Applying it 30 minutes before your appointment will give you the best results. 
The restorative gel is best used post-treatment. It helps to soothe the skin immediately and begins the process of repairing your skin post-treatment. It is an incredible asset that can help reduce inflammation, redness, and tenderness while also making sure that your skin is ready for your next laser hair removal treatment.