Back to all
Simplicity Laser - One of the Fastest Growing Companies in America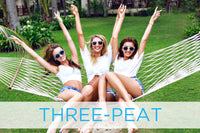 Simplicity Laser was recognized this month in the Inc.com list of the fastest growing companies in America for the third year in a row. 
Simplicity attributes its growth and success to loyal clients and a unique business model. The laser hair removal industry is largely unrepresented in the Inc. 5000 list, yet Simplicity has found a way to provide value for people everywhere, as seen by its rapid growth. 
While other laser hair removal companies focus on a confusing sales process, overwhelming prices, and not giving clients full information, Simplicity changed the industry by offering transparency and convenience at affordable prices. 
Simplicity Laser has 14 locations in seven states across the country. It was first recognized in 2014 by Inc., ranking #264. In 2015, they ranked #1807. They just received the 2016 ranking of #4269. 
Simplicity Laser thanks all of the people who helped make the Inc.com "three-peat" possible!