Back to all
Why you should use an antioxidant every day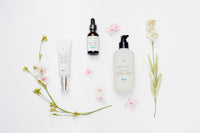 We always hear about the importance of eating super foods for an amazing dose of antioxidants. The benefits of antioxidants extend past eating delicious fruits and veggies. Applying an antioxidant to your skin is just as important. Here are five reasons you should use an antioxidant every day.
Anti-aging
Using an antioxidant everyday will protect your skin from UVA and UVB rays that age the skin. Antioxidants reduce the appearance of wrinkles while preventing the skin from further aging from the sun.
Protection from environment
Antioxidants effectively neutralize chemical reactions generated when skin is exposed to environmental assailants such as pollution and sunlight.
Antioxidants protect the skin against the environment and are an excellent complement to sunscreen for enhanced protection. Antioxidants can even help with harsh climates. C E Ferulic is ideal for dry, cold climates, and Phloretin CF is perfect for hot, humid climates.
Gives your skin an extra boost
In spite of all of the time and effort you put into healthy skin, everyone can always use a little boost. C E Ferulic helps increase the firmness and laxity of the skin, while Phloretin CF helps re-texturize the skin, evens the skin tone for a firmer, brighter complexion, and diminishes dullness and discolorations.
Skinceuticals Antioxidants are Customized to your Skin
Skinceuticals offer the most advanced products on the market, used by hundreds of dermatologists, plastic surgeons, and medical spas. The award winning products that Skinceuticals offers will change your skin for the better, no matter what type of skin you have. 
You Can Get a Great Deal Today!
Use the coupon code Skinceuticals Quiz for 15% off your online antioxidant purchase. Take the quiz here to see what antioxidant is perfect for you!