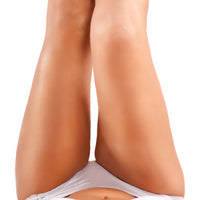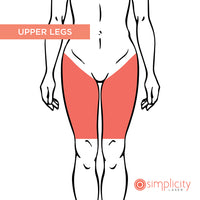 women's laser hair removal
Legs
Get ready to unleash your inner leg diva! 
At Simplicity Laser, we're all about helping you shine with natural confidence. Say goodbye to the hassle of unwanted leg hair and hello to the fabulous world of our Upper Legs Laser Hair Removal Starter Package!
Tired of the constant leg hair struggle? Who isn't! But guess what? We've got the secret – laser hair removal is your golden ticket to smooth, carefree Upper Legs that'll have you strutting your stuff like never before.
Ready to simplify your life and kickstart your journey to legs that are as smooth as silk? Don't wait a moment longer – let's make it happen! Once you've purchased your starter package, give us a call at 800-559-9138, and we'll be your partner to achieve legs that are not just hair-free but downright flawless.
PACKAGE DETAILS
This package includes

6 treatments

on your upper legs area. 

Please note, we have a limit of

one package, per person, per area. If you've previously treated your upper legs with us, you wont be eligible for this package. Don't worry, you still have options! Our Upper Legs Membership i

s the perfect solution. Give us a call, and we'll happily discuss other options for additional treatments.

Once you've started your treatments, the package becomes non-refundable. The package expires one year after the redemption date (the day you call in to redeem the package).
Frequently Asked
Can I return my starter package?
Yes, as long as you haven't started your treatments. Packages are non-refundable once treatments have been started.
Yes, all packages expire one year from the redemption date.
Why can I only buy one package per area?
We offer introductory packages so you can try the Simplicity experience before signing up for a membership.
Can I apply my package value towards a membership?
Yes! If you have used less than half of your package treatments and want to upgrade to a membership you can apply the full amount of your package towards your membership to pro-rate your monthly cost. If you have used more than half of your packages treatments you can apply half the value of the package towards your membership to pro-rate your monthly cost. 
Can I split my package treatments and treat two areas?
No. You can only treat the area you bought the package for. 
Can I get a refund on my package if I move?
No. We don't give refunds on packages when your treatments have been started.
Can I buy back my package treatment if I missed my appointment?
If you lose a treatment (due to no-showing to an appointment) you have the option to buy that treatment back for $20. It isn't $20 per appointment, it is $20 per treatment area. If you missed an appointment for your Brazilian and Underarms it would be $20 to purchase back each area.

The average woman spends 1,728 hours shaving her legs in a lifetime