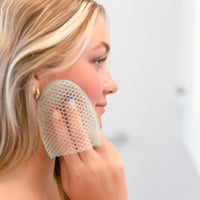 Supracor Facial Sponge
Our Supracor Facial Sponge is a revolutionary face exfoliator that not only clean and remove make-up, but exfoliate skin preparing for laser hair removal treatments. Use daily for softer, smoother, younger-looking skin.
The unique honeycomb structure is designed to contour and conform to each body surface. SUPRACOR features two textures of Stimulite® (dual-sided): one for cleansing and exfoliating and the other for massaging. Naturally antifungal, antibacterial, and allergen free.
Benefits Include
Effective in removing makeup
Delivery system for other products
Designed to slough away dry skin
Stimulates blood flow, enhances circulation
Promotes cellular regeneration
Ideal for preparing skin for laser treatments and exfoliating between treatments

The average woman spends 1,728 hours shaving her legs in a lifetime