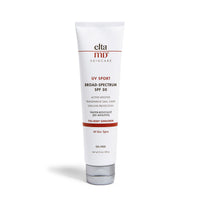 EltaMD UV Sport Broad-Spectrum SPF 50
Have your fun in the sun—but play it safe. This sunscreen is ideal for active lifestyle enthusiasts. UV Sport is water-resistant so it won't rinse off in water or drip into your eyes and sting when you sweat.
Sunburned skin is not eligible for laser treatments, so protect your face before and after laser treatments with UV Sport!
UVA (aging) and UVB (burning) protection
Water-resistant for up to 80 minutes

9% transparent micronized zinc oxide
Gentle enough for all ages (ask a physician to use on children under 6 months)
Oil-free, lightweight formula leaves no residue
Ingredient Insights:
Zinc oxide: Natural mineral compound that works as a sunscreen agent by reflecting and scattering UVA and UVB rays
Octinoxate: Organic compound that helps increase UV protection
Tocopheryl Acetate (Vitamin E): Antioxidant that reduces free radicals to help diminish the visible signs of aging

The average woman spends 1,728 hours shaving her legs in a lifetime