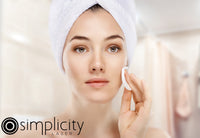 Taking extra care of your skin during laser hair removal is the key to seeing great results throughout the process. It may not seem like it, but proper skincare directly affects the results you see from your treatments. Improper skincare regimens can lead to adverse reactions and undesired results.
Moisturizing
While laser doesn't damage the skin, it is important to help soothe it post-treatment. Moisturizing is essential before and after treatments to keep your skin healthy. It is common to see red bumps post-treatment, but moisturizing can help soothe and repair it quicker so you can get back to your daily routine. We offer a Restorative Gel that is specifically designed to repair and soothe your skin faster than normal moisturizer. It calms the common reactions you see after getting treated.
Exfoliating
Exfoliating your skin removes the dead skin cells that pile up and cover your pores, which prevent new, healthy skin cells from growing. When you don't exfoliate, it often results in bumps on the skin's surface. During laser hair removal, the dead skin cells prevent the hair from shedding and make the overall process less effective. These dead skin cells can also create a barrier for the laser, making the impact often ineffective. Exfoliating one to two times weekly, especially on the treatment area, will help you get the results you're looking for.
Sunblock
During laser hair removal, the sun is not your friend. Using sunblock daily – even during the winter – will prevent any adverse reactions from occurring. Extended sun exposure can heat your skin to a point that the laser will only overheat your body, resulting in adverse reactions. We know staying out of the sun isn't realistic, but sunblock can prevent sunburns and tans that otherwise cannot be treated over during laser. Simply, we want you to get the best results possible, and that means not overheating your body and avoiding adverse reactions.
Spray Tans and Sunless Tanning Products
Beware of sunless tanning products and spray tans while getting laser hair removal. The chemicals in these products do not mix well with laser hair removal and can result in burns and/or discoloration. Be honest with your technician about using these products as treating you too early will result in adverse reactions.
By following the guidelines given here along with the pre- and post-treatment care instructions from the website, you will see the maximum results you're looking for from your laser hair removal treatments.